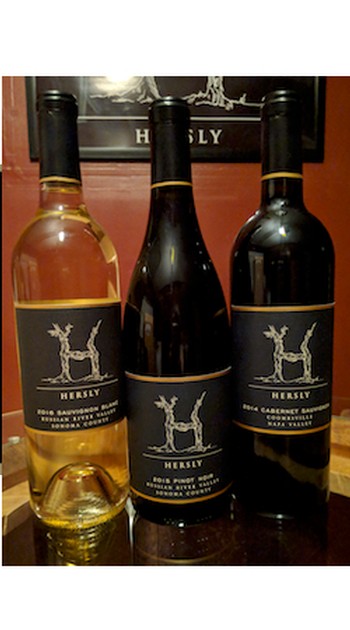 Berserkers 3-Pack
Welcome to Hersly Wines' VERY FIRST BerserkerDay IX deal!

We're thrilled to be a part of this! For our first BerserkDay, we want to introduce you to Hersly Wines with a special offer on our current release: One bottle of each of our wines at a special discount of 25% OFF + FREE ground shipping.
Retail $173 , Today Only $130 (1/27/18 & 1/28) Extended one extra day!!!
2016 Russian River Sauvignon Blanc: The 2016 is brighter in acidity compared to previous vintages. This wine pairs well will food. It was fantastic with a granny smith, goat cheese salad. Our Sauvignon Blanc is found on the esteemed wine lists of such places as The French Laundry, Morimoto (NY and Napa), Masa, and more! $28 Retail (119 Cases)
2015 Russian River Pinot Noir: The 2015 was a smaller vintage so stock up while you can. It's tasting magnificent, gorgeous dark ruby color and packs a powerful punch with extreme finesse. This 100% Pinot Noir has beautiful wild strawberry and cherry on the nose and the mid-palate, and a round finish. Pairs beautifully with food and/or with (lovely or difficult) family! $55 Retail (71 Cases)
2014 Coombsville Napa Cabernet Sauvignon: Nothing says cold weather wine like a hearty Cabernet Sauvignon. Our Cabernet has been featured at such restaurants as Eleven Madison Park and the NoMad in NYC, and Cole's Chop House in Napa. The 2014 is big, bold, and beautiful. Pairing with beef, lamb, and hearty dishes compliment the tannin structure. We also find it pairing beautifully with a crackling fire and a great movie. $90 Retail (143 Cases)
(Discounts will be auto-applied during Checkout)